Personal trainer and wellness coach Lavina Mehta was awarded an MBE for services to health and fitness during Covid-19.
The founder of Feel Good with Lavina – a programme where she provides online fitness training across the world – she is also a patron of the Menopause Mandate; a group of motivated women from all walks of life who share a common interest in helping women with perimenopause and menopause symptoms.
Here, the 44-year-old coach tells Suzanne Baum about her advice when it comes to helping women stay fit through the menopause.
Related: Andrea McLean on the benefits of exercising during menopause
You have recently shared your own perimenopause journey on social media to help normalise the conversation in the South Asian community, where many women are suffering in silence. Tell us a bit about this.
'I want to break the taboos, raise awareness, change the narrative and help women feel empowered to find solutions, as well as educating the men around us. My goal is to promote the power of exercise and lifestyle changes to help women embrace this phase.'
Are you going through any perimenopause symptoms yourself?
'I'm 44 but realise now that I have been experiencing symptoms since the age of 40/41. But I suppressed them (starting a whole new career path as a personal trainer) and then confused them with post covid symptoms – alongside the fact that everyone I told said I was too young!
'Nonetheless, my irregular periods, brain fog, bloating, poor sleep, bouts of anxiety and mood swings were really affecting me, so I had an initial chat with my GP in March and remember telling some of my close girlfriends. However, it really hit home when I watched the Davina McCall documentary in May. I burst into tears and my husband and youngest son actually sat with me to watch it holding my hand.
'The biggest revelations for me were around the change in the brain and brain fog. As a supporter of Alzheimer's Society charity and losing my grandma to it, I always raise awareness of the power of exercise, but to hear that we may be able to reduce our risks of Alzheimer's by up to 50% with HRT is huge!
'I had a massive response from me sharing a tearful very honest Instagram post the next morning of my feelings and received so many private messages from women at rock bottom – it broke my heart to see so many suffering. That's why I kicked off sharing my journey on social media, raw and unedited – the symptoms I'm experiencing and the steps I'm taking to make sure I don't suffer anymore and to help women understand what perimenopause is (especially in South Asian communities.)
Related: Yoga for perimenopause: ease anxiety, pain & insomnia
When it comes to women facing menopause issues, what are the most common complaints you hear about as a wellness coach & personal trainer?
'The top one has to be putting on weight, especially around the belly area/midriff. Weight can creep on and it's much harder to lose it, resulting in what I term the 'menopot'! Many of the ladies I train or who follow me tell me they struggle with their confidence, self-esteem, mental health and have felt depressed at times – the changes they have felt physically and mentally have really affected them and their relationships with loved ones and at work.
'Alongside not feeling good in their body, the brain fog and forgetfulness impacts their work. Combine this with sleep issues, anxiety and mood swings and it really takes its toll. Many women feel at rock bottom, unsure what to do and how to get help. I also think hair loss, skin and teeth issues can knock confidence so much at this age.'
How important is it to turn to fitness to manage menopause symptoms?
'I know it's hard to motivate yourself to work out when you're experiencing peri/menopausal symptoms, but exercise can really help to reduce them. The release of endorphins will help you feel good physically as well as mentally. Plus, it also reduces your risk of chronic illnesses for long term bone, heart and brain health.
'Remember that no amount is too small, hence why I promote my concept of "Exercise Snacking," where you do short, bite-size amounts of movement throughout the day. You don't need fancy equipment, a gym membership or a full hour – even 5/10 minutes is beneficial.
What advice do you have for fitness beginners? 
'Build up gradually – the aim is to hit around 30 minutes of moderate intensity cardio 5 times a week, which could be a walk 3×10 mins or even 6x5mins sprinkled in your day! My biggest tip is to make sure you are strength training (at least 2 times a week as per NHS guidelines.)
'In my opinion, strength training is often the missing piece of the wellness jigsaw. I believe it trumps cardio, as the more muscle mass we have, the more calories you burn at rest. Plus, with effective weight management, it can also reduce the risks of so many other chronic illnesses like heart disease, type 2 Diabetes and dementia. Lifting weights is also a great anti-depressant too! Building & preserving bone density and muscle mass is key to reduce your risk of osteoporosis, which is vital at this stage in your life.
'Participation in regular physical activity can increase our self-esteem and can reduce stress and anxiety. Start off small, find something you enjoy and be kind to yourself. When you're not feeling great, do something realistic and achievable.  Celebrate your wins in a journal & enjoy your feel-good journey!'
Related: Osteoporosis prevention: workout for bone health
What do you personally like to do for exercise?
'I only started my fitness journey properly 10 years ago when I fell in love with strength training.  My message is it's never too late to start! Lifting weights makes me feel strong, in body and mind, and so empowered. I may be petite, but I personally love lifting heavy weights (which I've progressed to gradually over time!). Let's also bust the myth that it will make you bulky!
'I balance this out with my daily "Feel Good Walk" (ideally immersed in nature) for my aerobic activity, but often this may just be 10-minute walk 'snacks' a few times a day, to fit it into my busy lifestyle. I do less HIIT than I used to, so a few HIIT 'snacks' (often with low impact exercise options) suit me better now. However, I love Boxing for high intensity cardio – plus, it's the best stress reliever!
'I also do a lot of mobility 'snacks' (even at my desk) and stretch 'snacks' (some simple drills morning or evening, incorporating yoga-based moves, focusing on my breath to alleviate stress, anxiety and aid muscle recovery). Exercise has definitely been a positive coping strategy for me during challenging times in my life and now to help combat perimenopausal symptoms.'
Do you feel menopause is still a taboo word?
'Yes, especially in my South Asian Communities. I get DMs and messages on a daily basis from women who don't understand what perimenopause or menopause actually is. There's no word for perimenopause in Gujarati and many Indian dialects. They don't understand menopause.'
Related: Cherry Healey on how fitness eases her menopausal anxiety
How do you feel now women are finally speaking up about menopause?
'It's amazing! It's so important we normalise the conversations [around menopause] with our loved ones, the men in our lives, at home and in the workplace.  As a South Asian woman, I feel it's my duty to represent, be open, share and help educate.
'This is to break the taboos, to raise awareness, to make it normal talk about peri/menopause, to support one another, to know that we can get help and that there are solutions. You are not alone. Don't suffer in silence. Let's feel empowered to get help and find solutions that make us feel good.'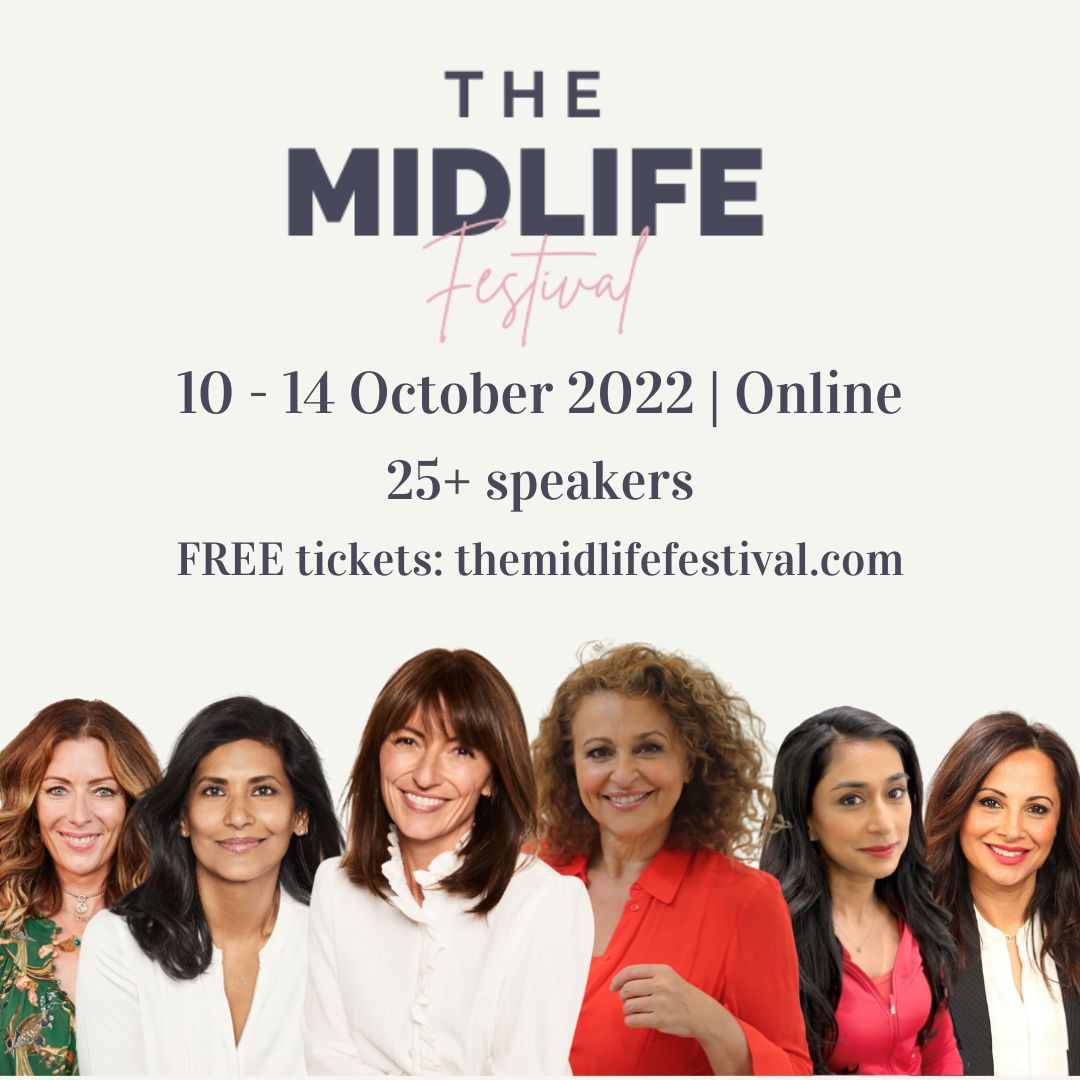 Why do you believe support groups like the Latte Lounge is so important? You are one of a line-up of fabulous speakers at its event on Monday: 'The Midlife Festival'.
'Latte Lounge is fabulous as it's bringing together leading experts and professional advice to help women navigate what is a stressful and at times very confusing topic. The fact that the Midlife Festival is free is going to help so many women access the right information and find solutions to embrace this period of our lives.
'I'm thrilled to be part of it alongside some amazing speakers, sharing their expertise as well as sharing their own journeys and experiences. I do hope you enjoy my session, which includes special Exercise Snack for everyone to join in and treat your body & mind!
For more details on the free event and to find out more about the Latte Lounge, visit themidlifefestival.com