Take your training to a whole new level with the best sandbag exercises. This multifunctional training tool is not only fun but will also functionally work your core, legs, arms – everything!
It may look like a large holdall, but a sandbag is a great way to engage often-unused muscles and challenge them in lots of different ranges of motion, which is key to accelerating your results. The best part of performing sandbag exercises is the constant moving of the sand inside it. This means your core, your legs and indeed your whole body has to work so much harder to stay stable against the resistance.
Discover the best strength training techniques for lean muscle
You then have a variety of handles to attach to the bag – this gives you endless grip options and movement possibilities, which allow you to practise functional movement and work your body from lots of different angles. Throw the bag, lift the bag or jump over it. The sandbag will feel awkward at first but that's the whole point. Here are a few of the best sandbag exercises to try.
Sandbags vary in weight. The Corength Adjustable Sandbag we've used here goes up to 35kg.
BUY IT NOW:
£44.99 / decathlon.co.uk
Best sandbag exercises for full-body strength
Try out the following sandbag exercises to work every muscle in your body…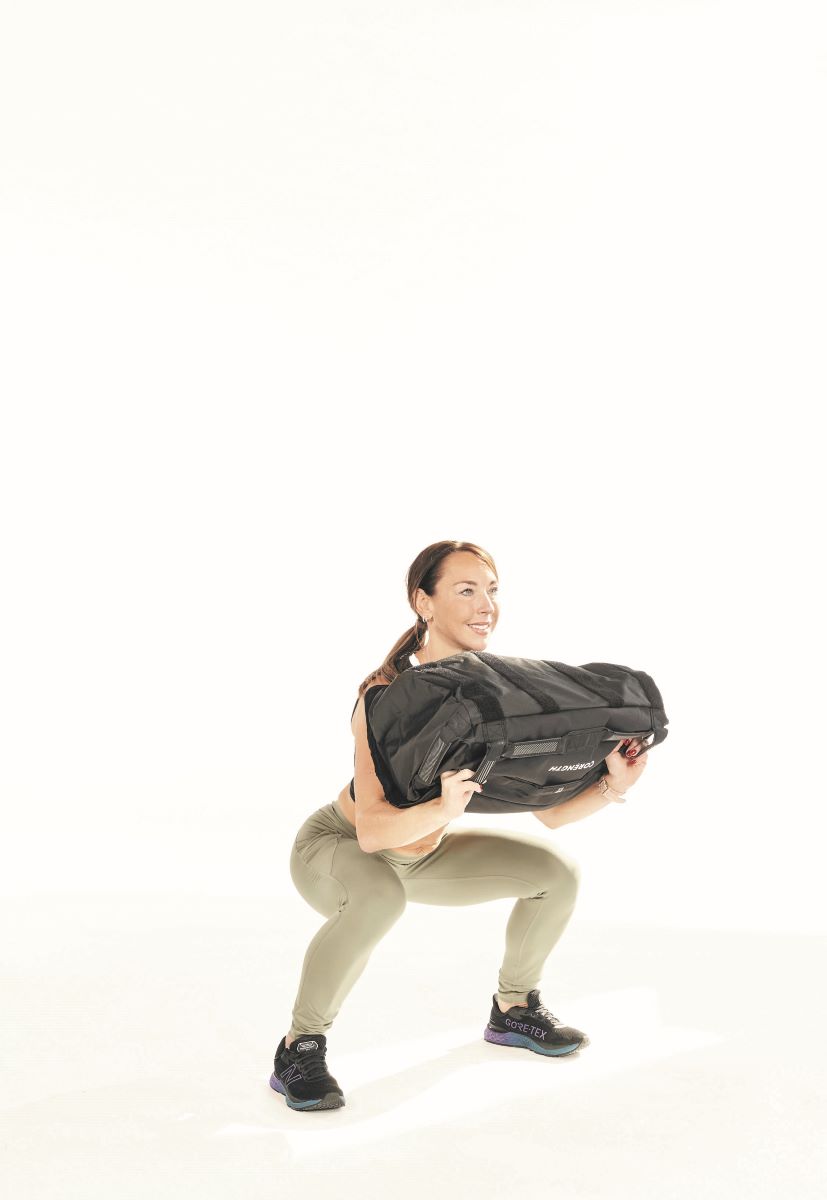 Sandbag thrusters
This is great full-body move that will work the entire body explosively, with a cardio element too.
Focus area: Abs, upper back, shoulders, arms, core, thighs and bottom
How to do sandbag thrusters:
Stand with your feet shoulder-width apart and hold the sandbag in front of your shoulders.
Push your hips back and down to lower into a squat, keeping the sandbag in the same place (A).
Quickly straighten your hips and knees and drive the sandbag up, so that your hips, legs and arms are fully extended and the sandbag is overhead (B). Reverse the motion to return to start.
Beginners: 2 x 10 reps
Intermediates: 3 x 10 reps
Advanced: 3 x 15 reps
Check out our guide to the best gym ball exercises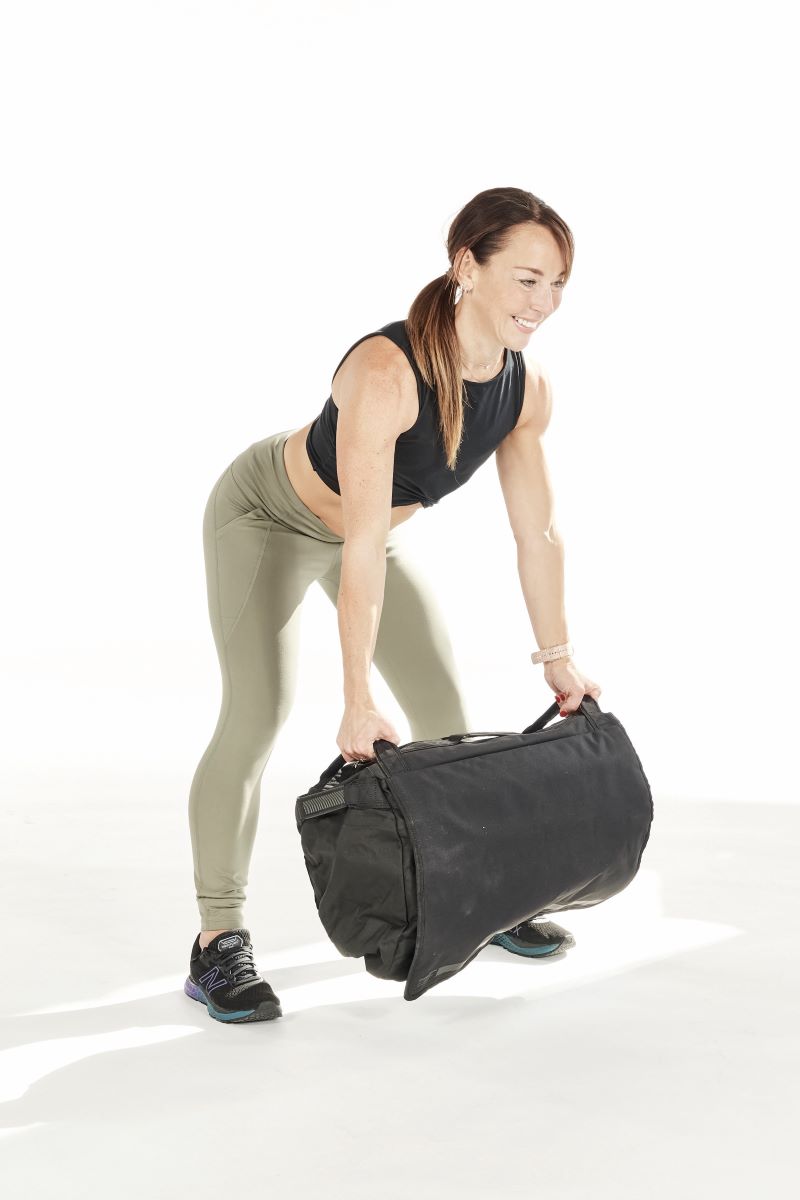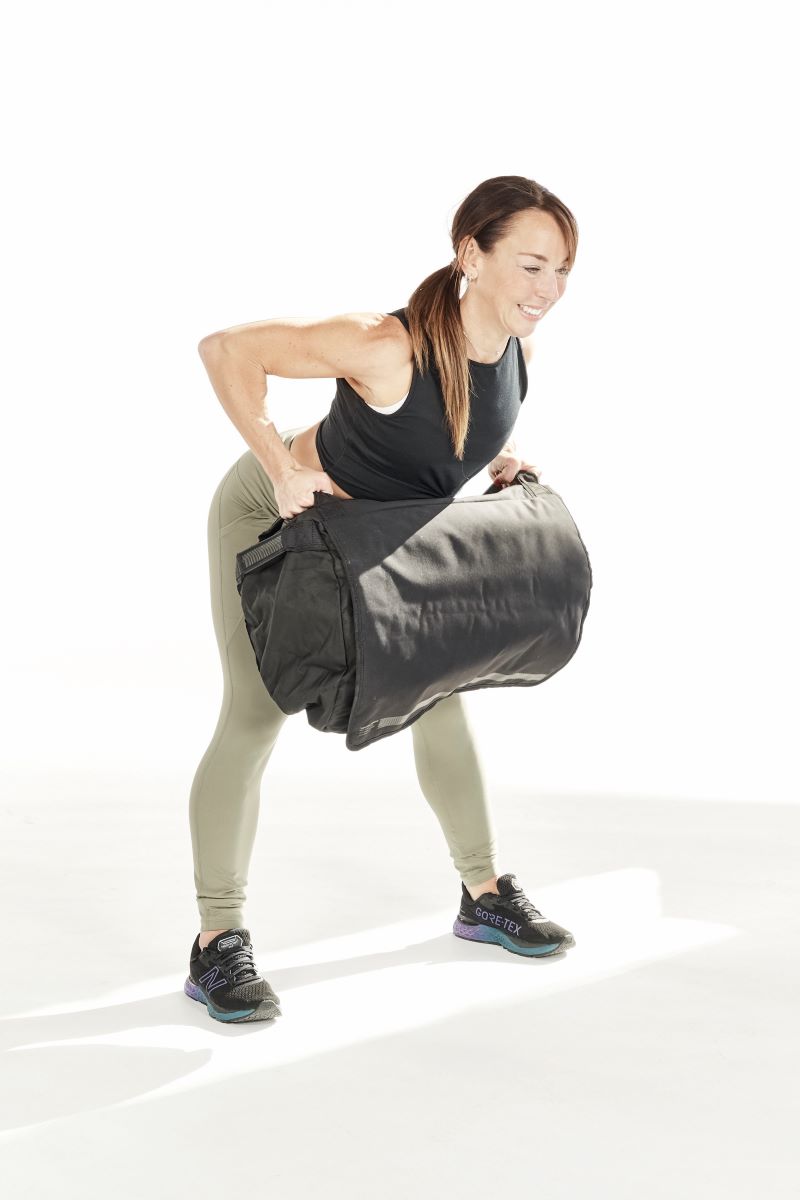 Sandbag bent over row
This move will work your upper body and biceps, plus is great for pulling everything back and up – vital for good posture and standing tall and proud.
Focus area: Shoulders, arms, abs and core
How to do a sandbag bent over row:
Bend forwards at your waist and hold the sandbag in front of your shins. Your feet are shoulder-width apart (A).
Keeping a flat back, bend your elbows and pull your shoulder blades together to raise the sandbag to your belly button (B).
Reverse the motion to return to start.
Beginners: 3 x 8 reps
Intermediates: 3 x 10 reps
Advanced: 3 x 15 reps
Try our 12-week gym workout plan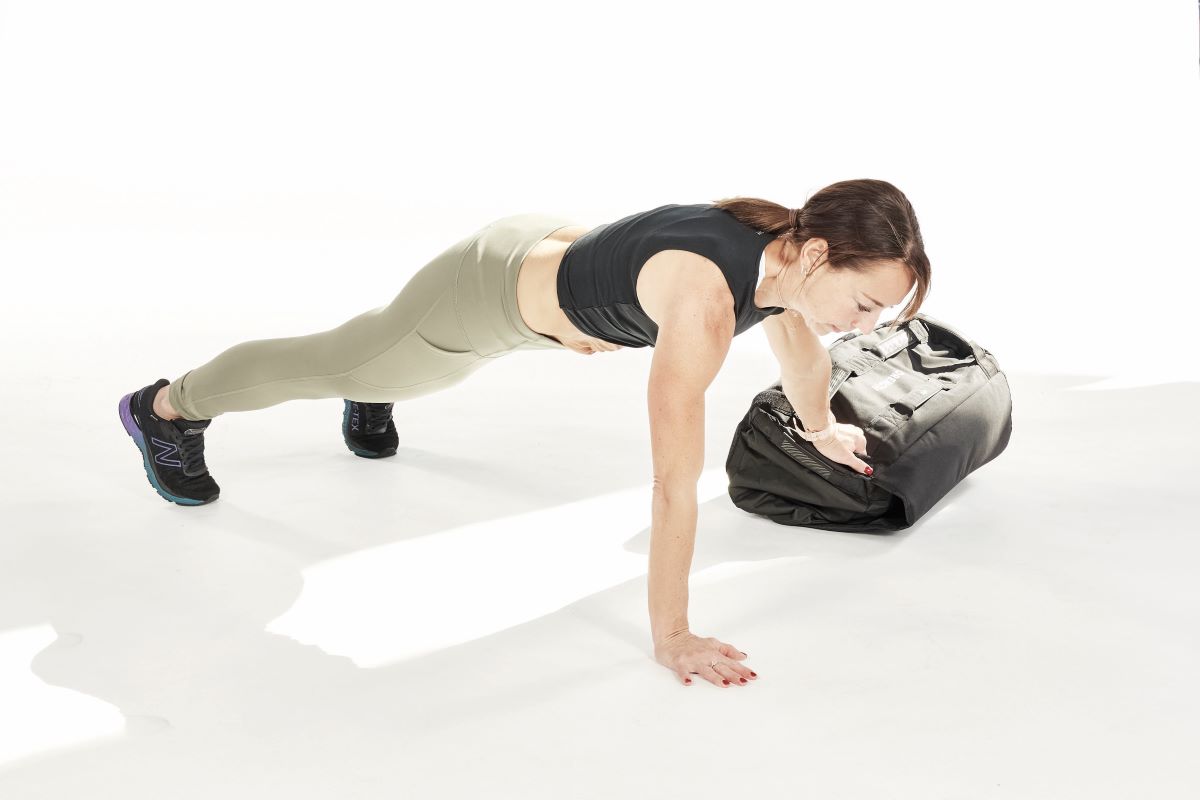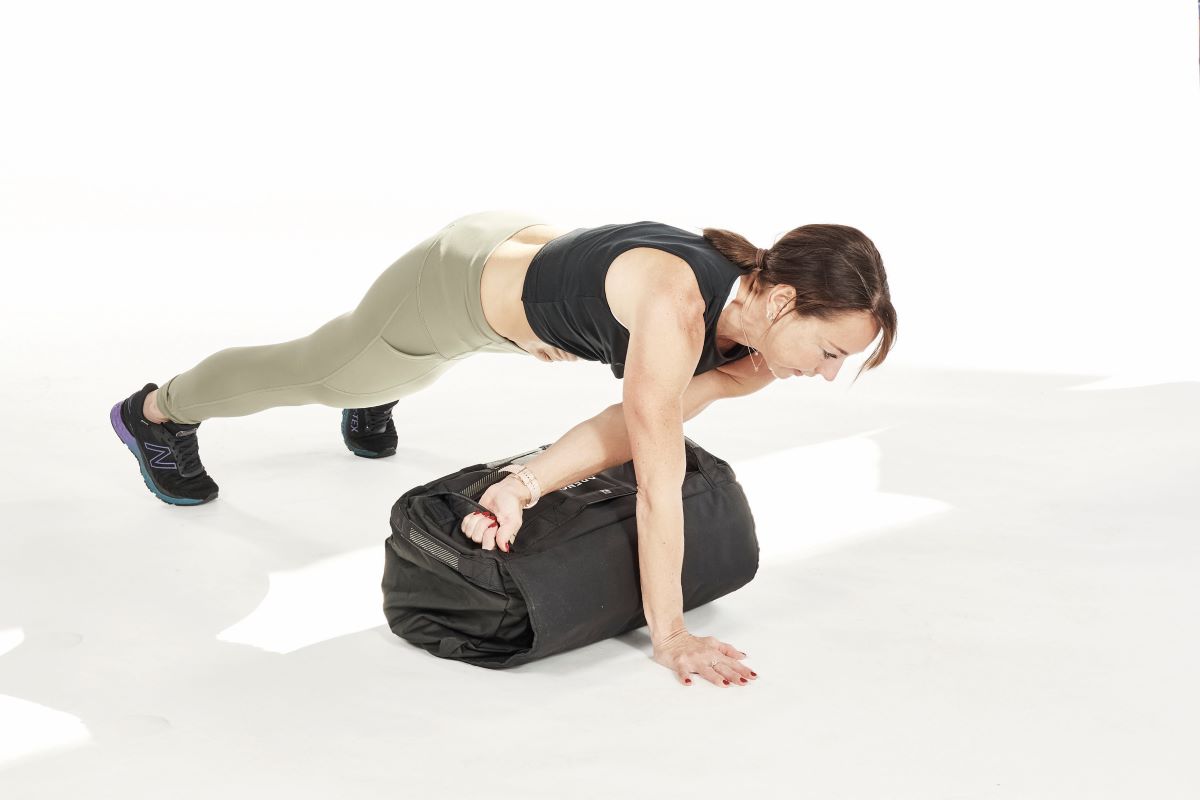 Sandbag plank lateral drag
This exercise will not only strengthen your abs, but your core, shoulders and obliques will also have to work extra hard to drag and pull the sandbag whilst keeping your body stable.
Focus area: Obliques, abs, quads, chest, back and shoulders
How to do a sandbag plank lateral drag:
Get into a press-up position with your hands placed shoulder-width apart.
Keeping your hips still and body in a straight line from your head to toes, take your left hand to the sandbag (A) and drag it from your left-hand side to just outside of your right shoulder (B).
Stabilise your body, reset your plank and then repeat on the other side, grasping the sandbag with your right hand and dragging it back to the left of your body.
Alternate sides for the total number of reps.
Beginners: 2 x 8 reps
Intermediates: 2 x 10 reps
Advanced: 3 x 10 reps
Model & words: Lucy Miller | Photographer: Eddie Macdonald | Clothing: Roxy Aint She Sweet Workout Tank, £32, and Roxy Sublime Sunshine Workout Leggings, £45; Simply Trainer Socks, £12; New Balance Fresh Foam 880v11 GTX, £140