You've enjoyed the summer but has it left you a little more sluggish and lethargic than you'd like? If your healthy diet derailed during the hotter months, our 21-day meal plan will get you back on track…
The summer months are often a time for celebration, social gatherings and, of course, lots of food and calorie-laden beverages. In fact, our summer holidays are not always as healthy as we might think, with all-you-can-eat buffets, plenty of cocktail hours and restaurant portion sizes, not to mention changes to your regular exercise programme. So if the warm-weather months have left you feeling a bit bloated and sluggish, it's time to take action and get back on track with a healthy & nutritious meal plan…
Related: The Eatwell Plate: how to eat a balanced diet
How to get back on track with healthy eating
Ready to get back on track with your healthy eating? Hold back from jumping on the weighing scales or starting the latest fad diet. For long-term success when it comes to healthy weight loss, you need to adopt an eating pattern that is both enjoyable and sustainable.
There are no magic foods when it comes to weight loss. If you want to reach a healthy weight, you need to sustain a caloric deficit and, ideally, combine it with an exercise programme tailored to your goals, but you can be flexible. In fact, strict adherence to a healthy meal plan isn't necessarily for everyone. With that in mind, here are some nutritional strategies that are likely to help you reach a healthier weight for your body type…
Related: Understanding body shapes: what you can & can't control
Avoid huge calorie deficits
While it is well known that calorie deficit leads to fat loss, don't fall into the mistake of thinking that 'less is better'. A huge calorie deficit will just leave you feeling constantly hungry, irritable and too tired to work out effectively. Take a longer-term view – weight loss takes time, so focus on nourishing and energising your body.
Related: How many calories should I eat per day?
Prep meals in advance
If you often eat out, travel for business or work long hours, it's a good idea to start planning your meals. Meal prep and planning is a great way to save you time and money, plus ensure you have correct portion sizes. If you are eating out, take some time to find a restaurant with healthy options. A little planning will help you stay on track.
Relax your approach to healthy eating
When you're starting out on a new exercise programme or diet it can be easy to put too much focus on hitting your numbers every day, whether that's calories or macros. Not only is this mentally draining but it isn't always necessary – even food labels aren't 100 per cent accurate. What is more important is consistency. If you do want to initially count or weigh food, then focus on total daily calories and protein, but don't stress out too much about being perfect.
Don't be too prescriptive
For many people, following a diet means deprivation which can, in turn, result in a low mood and poor adherence to the plan. Yes, you're going to need to put in some effort to make healthy changes but there is no reason why you cannot allow for some small indulgences from time to time. This is likely to help you adhere to your plan over time and also avoid a tendency to binge.
Don't focus on numbers and stats
While you may be looking to see a different number on the scales, if you are exercising regularly, you may find your body looks better despite not losing much weight. This is particularly true if you have started resistance training.
Often you may notice changes in the mirror or in the way your clothes fit. The body also does not lose weight in a linear fashion. That means on some weeks you'll lose weight, while on others the scale stats won't change. Water intake, glycogen depletion, sodium intake and hormonal changes can all cause changes to your bodyweight. If your only focus is the scales, you may be tempted to give up when you don't appear to get results.
Related: Calories on menus: helpful or harmful?
5 simple ways to follow a healthier diet
1. Avoid calorific drinks
Liquid calories tend to be far less satiating than solid calories and, typically, are consumed in addition to meals. It's not just the alcoholic drinks or sugary smoothies in the cafés either – calories from milky drinks, lattes and fruit juices can easily add up, as well.
2. Choose healthier condiments
Calorie-dense vinaigrettes, sauces and full-fat dressings may well be adding 100-200 extra calories to your meals. Switch to low-fat or low-calorie versions, and reduce your portions or drizzle salads with a little vinegar instead.
3. Avoid constant snacking (and choose healthier options)
Eating little and often to lose weight is just not necessary. Snacking can be many people's downfall. Reducing your meal frequency could help cut the calories and avoid mindless eating.
4. Fill up on veggies
That does not mean no carbs, but instead swap some pasta or bread for leafy greens. This can help you feel full by giving you loads of food volume on the plate and reducing the calories.
5. Focus on protein
When putting meals together, focus on getting sufficient protein-rich foods. This is really key when it comes to body composition. Protein will also keep you feeling fuller for longer, meaning you're less likely to want to snack later.
21-day healthy meal plan
Do you like to follow a set plan? Each day for the next three weeks, select one of the breakfast options and one snack option below, in addition to the main meals. Many of the snacks and breakfast options are portable or grab-and-go food for convenience. You can be flexible. Some people like the same breakfast daily, while others want more variety.
The dishes on this 21-day healthy meal plan are high in protein, which is important when it comes to fat loss and body composition. Drink six-to-eight glasses of water daily, in addition to your pre-or post-workout electrolytes. And remember to exercise daily and schedule regular resistance training throughout the week, too.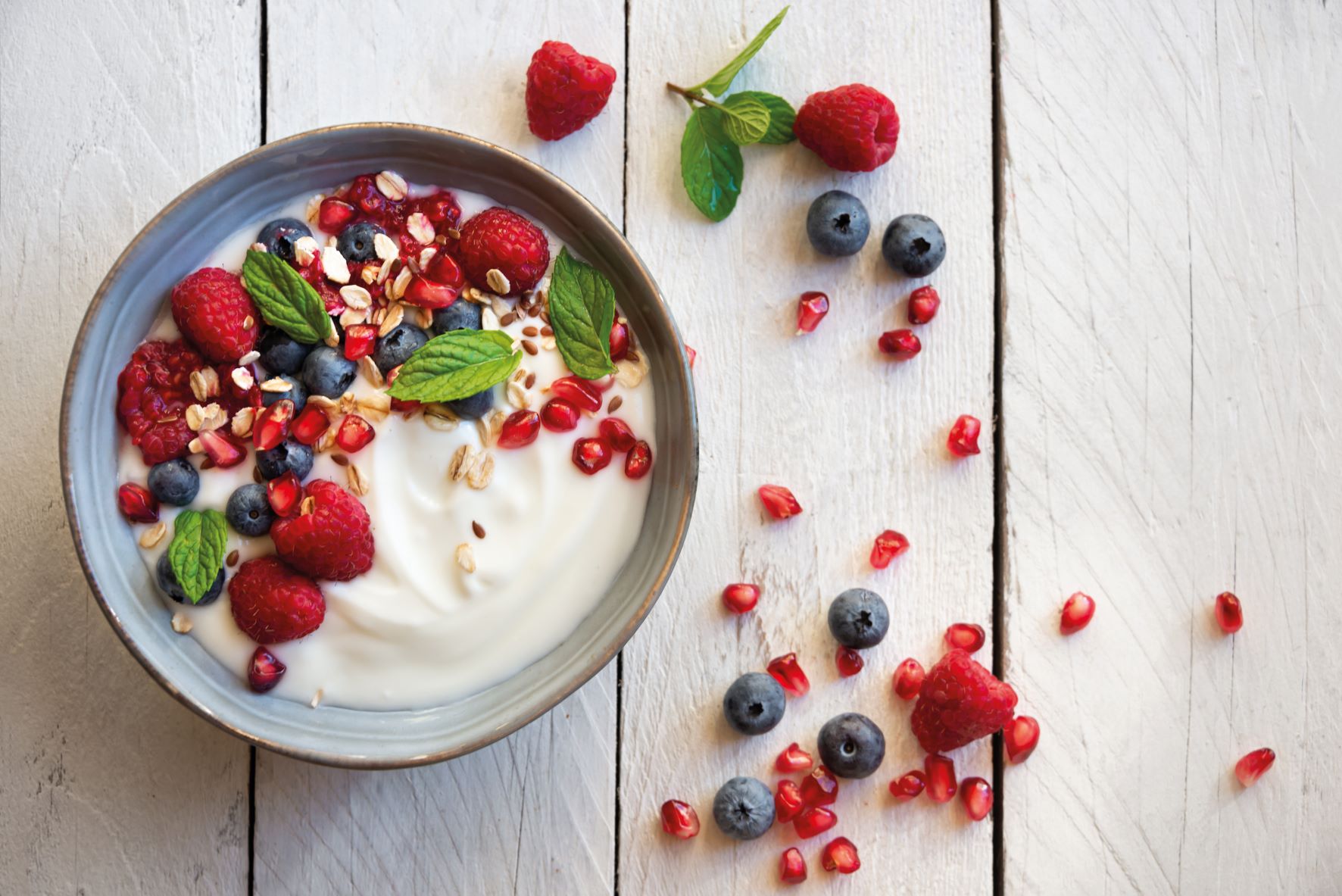 Healthy breakfast choices
Yoghurt and Fruit. 200g 0% Total Greek Yoghurt (or Greek soy yoghurt) with 100g blueberries and 1 tbsp mixed seeds
Super Green Protein Shake. Blend together 1 scoop vanilla protein powder, 1 handful of spinach, 100g frozen mango, 150ml coconut water and 150ml semi-skimmed or coconut milk
Protein Waffle / Pancake. Make pancake with blend of 1 egg, 2 egg whites, 30g oats, scoop of protein powder, ½ small banana and a little milk. Top with a little yoghurt
Pulsin Cookie Dough Protein Bar or Kind Protein Dark Chocolate Nut Snack Bar
Protein Oats. Make up porridge with 30g porridge oats and milk or water. Stir in scoop of protein powder and top with berries
Smoked Salmon & Eggs. Scramble 2 eggs with 30g smoked salmon and grilled tomatoes or mushrooms
Granola. 50g Lizi's Low-Sugar Granola with 100g Greek or soy yoghurt
Cottage Cheese and Fruit. 150g low-fat cottage cheese with 100g chopped pineapple, 2 oat cakes
Smoked Salmon & Cream Cheese on Toast. 1 slice of wholegrain toast, 2 tbsp low-fat soft cheese, 50g smoked salmon, ½ grapefruit
Healthy snack choices
Aim for around 100-200 calories
Protein shake
Hard-boiled egg and spinach pot (eg from Pret)
2 satsumas or small pot of mixed fruit
Small pot (150g) Total
0% Fat Greek Yoghurt
Pulsin Iced Coffee
Plant-based Protein Shake
100g Eat-Lean Protein Cheese with celery sticks
Small hummus pot (70g) with carrot sticks
2 squares dark chocolate
2 oat cakes with low-fat soft cheese, handful of grapes
20g salted popcorn
60g edamame beans
2 soft dates and 30g nuts
Healthy meal plan: week 1
Sunday
Lunch: Falafel Wrap. Spread a wholegrain wrap with a little hummus. Top with 2 cooked falafels and a handful of lettuce. Serve with a side salad
Dinner: Prawn Stir-Fry. Lightly fry a bag of prepared stir-fry vegetables with a little garlic, ginger and soy sauce. Toss in 100g cooked prawns (vegan option: 150g pan-fried tofu) plus 100g ( ½ cup) of cooked rice
Monday
Lunch: Can of tuna (100g, drained), large mixed salad (lettuce, cucumber, cherry tomatoes, pepper, olives), balsamic vinegar or lemon juice, 2 oat cakes
Dinner: Mediterranean Chicken Bake. Roast 1 chicken breast, 200g vegetables (red onion, pepper, courgette and cherry tomatoes, chopped) and 2 new potatoes with a little olive oil and balsamic vinegar. Serve with green salad
Tuesday
Lunch: Frittata and Salad. Beat together 2 egg whites and 1 egg. Sauté a little onion and pepper in a pan. Add a handful of frozen peas and stir. Tip in the eggs with 1 tbsp grated cheese. Season, then place in the oven to cook. Serve with mixed salad
Dinner: Beef Stir-Fry. Marinate 100g lean beef, cut into strips in a little orange juice and soy sauce. Stir-fry with a bag of mixed stir-fry vegetables and serve with Barenaked low-carb noodles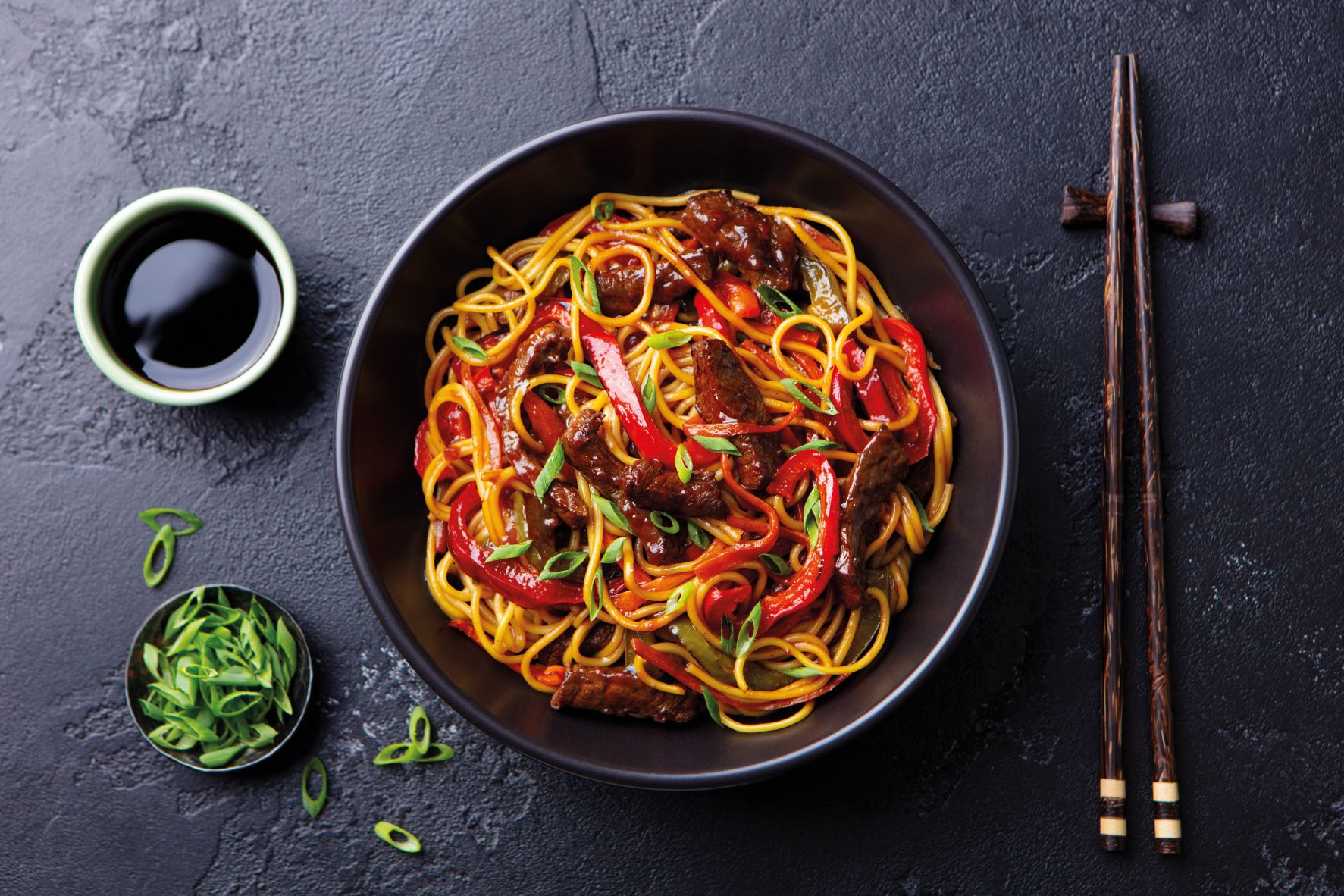 Wednesday
Lunch: Hummus Wrap. Use 1 seeded wrap, hummus, grated carrot, lettuce and serve with side salad
Dinner: Pesto Cod Parcels. Place 1 cod fillet with a little lemon juice in greaseproof paper. Spread with pesto and seal. Bake in the oven or steam. Serve with 3 new potatoes and steamed broccoli, courgettes and mangetout
Thursday
Lunch: 1 cooked salmon fillet, large mixed salad, mini pitta bread served with low-calorie dressing
Dinner: Dahl with rice. Cook 50g red lentils with water and a small can of chopped tomatoes, garlic, ginger, cumin and curry powder. Stir in a handful of spinach. Serve with ½ packet microwave rice (125g, cooked) and a salad
Friday
Lunch: Half a carton of fresh carrot and coriander soup, mini pitta with cottage cheese and side salad
Dinner: Pesto Chicken Pasta. Make with 40g (dry weight) wholegrain pasta, low-fat pesto, stir in 1 cooked chicken breast, sliced, and serve with a large mixed salad
Saturday
Lunch: Chickpea bowl made with ½ can chickpeas, ¼ avocado, handful of olives, chopped tomatoes, lettuce, cucumber and 70g hummus and 50g cooked rice or quinoa
Dinner: 2-egg omelette, remainder of the carrot and coriander carton of soup, and a side salad
Healthy meal plan: week 2
Sunday
Lunch: 100g roast chicken, 2 roast potatoes, steamed broccoli, cauliflower and green beans
Dinner: Tuna Niçoise Salad. Made with 1 can tuna, drained, 2 new potatoes, cherry tomatoes, cucumber, lettuce, olives and a little low-fat vinaigrette
Monday
Lunch: Miso soup and make up a salad with 100g cooked tofu, 50g cooked edamame beans, mixed salad and soy sauce
Dinner: Baked Salmon. Bake a salmon fillet with 1 courgette, 1 red pepper, 1 onion, 2 new potatoes and a little olive oil and chilli flakes. Serve with side salad
Tuesday
Lunch: Falafel Wrap. Use 2 cooked falafels, seeded wrap, grated carrot and lettuce, and serve with a side salad
Dinner: Jerk Chicken Kebab. Make with 100g chicken breast cut into chunks, tossed in oil and jerk seasoning. Grill with pepper and onion, and serve with steamed vegetables and salad
Wednesday
Lunch: 2-egg omelette with smoked salmon and large mixed salad
Dinner: Miso Chicken Salad. Grill 1 chicken breast marinated in miso paste then serve with ½ packet microwave rice (125g, cooked), grated carrot, courgette, radish, spring onion, lettuce, and drizzle with rice vinegar and soy sauce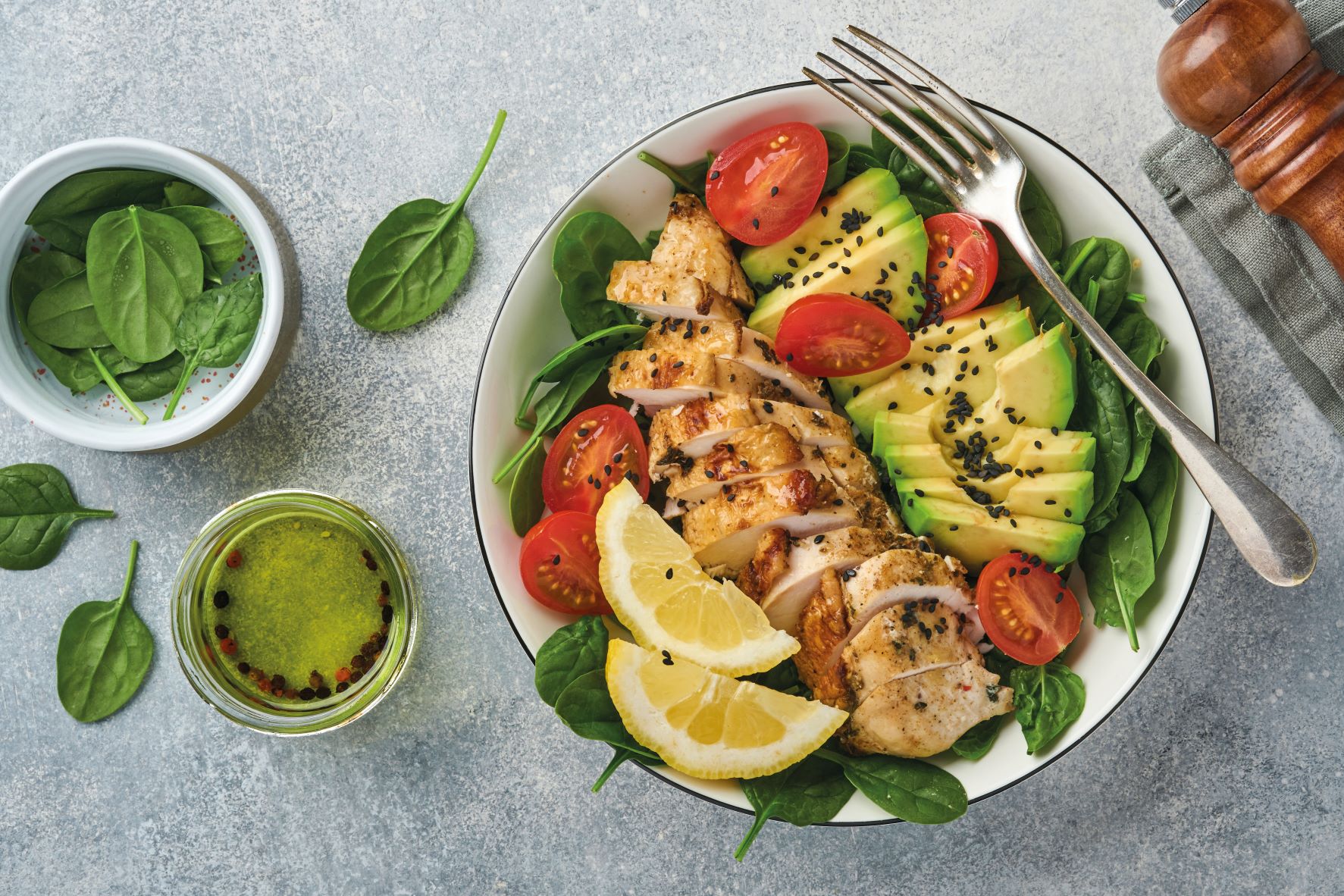 Thursday
Lunch: Avocado Chicken/ Tofu Salad. Serve 1 cooked chicken breast or 100g cooked tofu with 1/4 avocado dressed with lemon juice and 1 tsp olive oil served with a mixed salad
Dinner: Prawns with Noodles. Cook 30g buckwheat or rice noodles. Toss into a pan with a bag of stir-fry vegetables, ginger, garlic and tamari soy sauce. Stir in 100g cooked prawns to serve
Friday
Lunch: Lentil Salad. Mix together ½ can cooked puy lentils with chopped tomato, pepper, cucumber and sweetcorn, and serve on a bed
of mixed salad leaves. Dress with balsamic vinegar
Dinner: Bake 1 bean burger with 1 sweet potato cut into wedges. Large mixed salad and low-calorie vinaigrette
Saturday
Lunch: Lean Steak with Sweet Potato Wedges. 100g grilled lean steak with broccoli and cauliflower, plus 1 small, sweet potato cut into wedges and baked. Bowl of side salad
Dinner: Falafel Salad Bowl. Serve 3 falafels with a large mixed salad, low-calorie vinaigrette and mini pitta bread
Healthy meal plan: week 3
Sunday
Lunch: Baked Cod with Herbs. Blend handful of parsley, coriander, 1 tbsp capers, 1 tsp Dijon mustard, 1 tsp lemon juice and a little olive oil. Pan fry a cod fillet. Top with herb sauce. Large mixed salad and 2 new potatoes
Dinner: ½ carton fresh bean soup, mixed salad and mini pitta bread
Monday
Lunch: Leftover soup with large mixed salad and 50g low-fat cottage cheese
Dinner: Turkey / Veg Burger. Shape 100g lean turkey mince (season with salt and pepper) and pan fry or bake. Or, use 1 bean burger. Serve with steamed vegetables and 1 small sweet potato cut into wedges and baked, plus side salad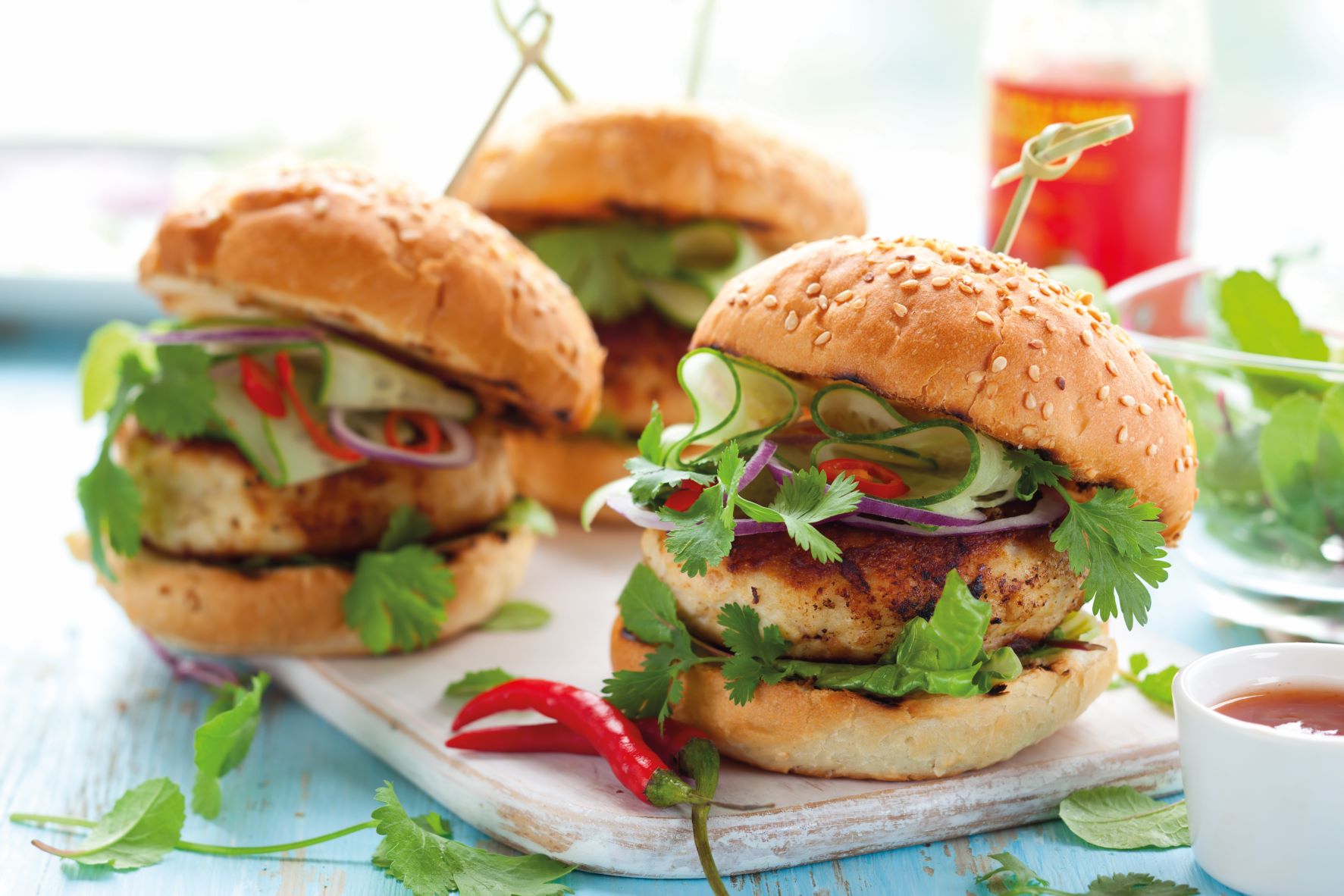 Tuesday
Lunch: Kale, Chickpea and Avocado Salad. Place 100g kale in a bowl. Massage in sea salt and juice of ½ lemon until kale wilts. Add 2 tbsp toasted mixed seeds, 1/4 avocado, sliced, 1 tomato, chopped, and serve with ½ can chickpeas
Dinner: Stuffed Peppers. Halve a red pepper and deseed. Bake for 10 minutes. Mix together 30g cooked rice, some cooked lentils,
1 tomato, chopped, 2 tbsp pesto and stuff into the peppers. Bake for 10 minutes. Serve with mixed salad
Wednesday
Lunch: Mexican Bean Salad. Mix together ½ can mixed beans, drained, with 50g sweetcorn, 1 diced tomato, 2 spring onions, cucumber, ¼ avocado and bag of mixed salad
Dinner: Chicken / Tofu Curry. Sauté 1 chicken breast (or 150g firm tofu) cut into cubes in a pan with 2 tsp curry paste until golden. Add 200ml coconut milk, chopped sweet potato, red pepper and green beans, and sauté until cooked
Thursday
Lunch: Pitta-filled Falafel. Place 2 cooked falafels in a small wholegrain pitta and serve with mixed salad and hummus
Dinner: Chilli and Rice. Cook 100g turkey mince (or 1 can cooked lentils) with chilli powder, smoked paprika and ½ can chopped tomatoes until tender. Steamed broccoli and cauliflower, and ½ packet of microwave rice (125g, cooked)
Friday
Lunch: 1 hot smoked trout / salmon fillet served with large mixed salad and low-calorie vinaigrette
Dinner: Roast Chicken and Vegetables. Drizzle a little olive oil over chopped courgette, red pepper, red onion and sweet potato. Top with a chicken breast and drizzle over a little lemon juice. Roast in the oven until tender
Saturday
Lunch: Grilled Mackerel Fillet. Brush a mackerel fillet with a little Thai curry paste. Grill until cooked through. Serve with large salad and steamed vegetables
Dinner: Bean Quesadillas. Warm a tortilla in a pan. Sprinkle half with 30g grated cheese and 2 tbsp refried beans. Fold over and cook in the pan until the cheese melts. Serve with mixed salad.
Related content:
Pre-workout nutrition for women: what to eat & when
How to boost your metabolism: nutrition & exercise tips
Healthy vegetarian recipes: 7 superfood dishes to try